My entire Facebook Newsfeed is a Trayvon Martin memorial. Everybody "likes" the page dedicated to bringing his killer to justice. For me, his death reflects the sum of my fears. We can't win for losing.
Apparently the scene of the crime is a gated community down in Florida, one that Mr. Zimmerman felt Trayvon didn't belong in. Why? Because he looked like the people the gate was designed to keep out. But he did belong there. So, why were his people living inside that community? More than likely it's for the same reason that I pay way too much in rent for way too little square footage: I don't want to be around "ninjas" either.
Am I a sellout or a survivor who barely made it out? The first thing a real person from the hood does when he makes it big is LEAVE. Then you get your Harriet Tubman on and come back and get other people out. We can pretend all day that the problem is just the media portraying us unfairly but in the words of Mr. Shakur, "And they say it's the White man I should fear, but it's my own kind doing all the killing here."
I remember people getting raped in the stairwell and shot in the elevator in my apartment high rise when I was little. We moved. Then I got jumped taking out the trash because I was new in the neighborhood. We moved. Somebody got raped in the alley. We moved. Stole our car. We moved. Seven apartments in nine years. I couldn't go to my neighborhood schools because they were basically police substations. Despite my environment, I avoided becoming a statistic. I stayed out of trouble, went to school and got a good job. I tried going back to "my" community. I wanted to be the young professional who planted roots in the community, but having a new wife made it difficult to ignore the muggings at the bus stop, the home invasions in my building or the guy getting shot in front of my door. We had to move because the value we placed on our lives was a lot higher than the 23 cent bullets they kept tossing around the neighborhood.
We used the crime map on the police website to find our next apartment. Wherever the fewest blips appeared would be our new neighborhood. It was a coincidence and culture shock to find that it was 90% White. Now I don't worry so much about getting shot by a stray bullet walking down the street. I don't worry about getting mugged like I used to. Now, I have new problems. I worry about being mistaken for the very people I pay so much rent to get away from. I worry about getting stopped by the police whenever I walk down a street in my neighborhood that is not a major thoroughfare for foot traffic to the metro. I worry whenever a random White woman turns the corner at night and begins to share the sidewalk with me. I worry that I'm walking too fast or too slow behind her. I worry about walking home from the store with a pack of  my favorite candy that I've been eating everyday since I was five, Skittles, and some asshole spilling my life onto the sidewalk because in his twisted reality the prey hunt down the predator.
I worry more now than I did before… and that worries me.
– Ordale J. Allen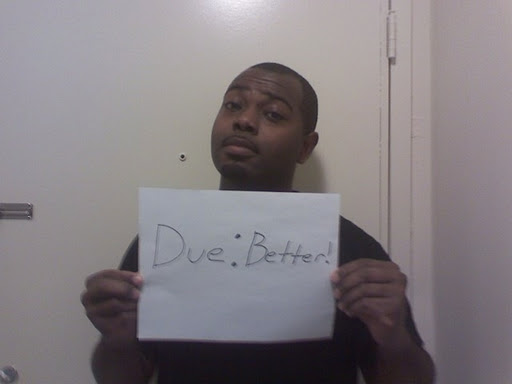 { 0 comments }